Season's Greetings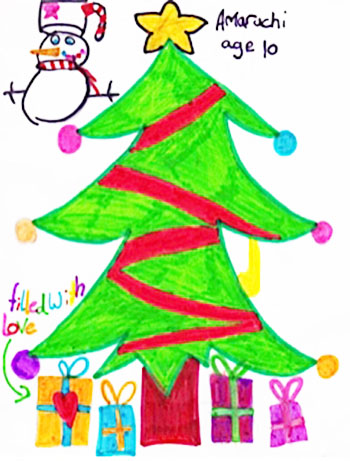 Christmas is almost here, so come and join us for some holiday cheer.
Options 4 Change invites you to our annual
Children's Christmas Party
Thursday, December 18th
5pm - 8:30pm
Venue: 55 Leigham Court Road
Together we can make this a time to remember. Happy Holidays!
Welcome to Options4Change.org.uk. Options 4 Change is a Lambeth-based charitable organisation working with children and young people up to age 25.
Changing minds and lives for better.
Lambeth one of the 20 most deprived boroughs in England, and contains some of the most deprived wards. Over a third of children in the borough are growing up in poverty.
Options 4 Change works with young people and families who are often deprived, disempowered and disengaged. We help them work with a system of statutary organisations that is often complex and intimidating to get the best results for their family: to secure the home they need, or to get their child back into education. We work with young people to encourage aspirations and long-lasting, positive change.
Our work is facilitated by close co-operation with local bodies, including the Metropolitan Police Service.
---
Options 4 Change in 2014
The very best of 2014 to our service users, staff, volunteers, partners, funders, donors, friends and community reps.

2014 is another year for us to propel to higher highs for service user involvement, young people and parent empowerment to make change work for them. We remain passionate about excellence in academic achievements, influencing positive social aspirations and the general wellbeing of young people and their families.

2013, was a year of remarkable achievements for Options 4 Change. Within complex resource restraints we developed and delivered some very challenging community and people engaging projects with the support of our funders, volunteers and donors. We are mostly managed and serviced by volunteers who ring-fence a range of specialist skills that are usually out of our financial reach. Alongside each other our volunteers and corporate mentors contribute their skills and expertise in various roles to tackle poverty, disadvantage and shortfalls in statutory provisions for children and young people services for communities across Lambeth and beyond.

Our work was recognised with a Lambeth Civic Award in February 2013. The award was presented to our CEO Donna Sinclair. The award recognised her dedication and commitment in her work with young people and their families by working tirelessly to encourage them to think positively through study and training. This is a remarkable recognition which we are very proud of. We are thankful to Lambert's leaders for this acknowledgement.

Our service growth in 2013 included the employment of a range of seasonal and part-time staff. They delivered in house and community based projects such as;

Warm and Well in Winter - An Age UK and NHS Lambeth funded workshop led by us in partnership with the Karibu Education Centre. The workshops promoted keeping warm the health and well-being of the elderly and vulnerable persons during the winter months.

Path Project - The London Community Foundation funded is a project focused on intensive one to one support for young people who are seeking personal development. The interventions enables alternatives to dysfunctional lifestyles and pathways into education, and employment

The Parenting Skills Development Workshops - funded by The Mayor's Office for Policing and Communities (MOPAC) engaged a diverse group of parents from across Lambeth to further their parenting skills. The key features included inspiring academic excellence, dealing with schools exclusions gangs and safer neighbourhoods.

Generations Together Coldharbour - funded by Building Communities Coldharbour via The London Community Foundation was intergenerational. The programme of 10 weeks of residents led workshops which were natured by our organisation inspired residents of all ages living in Coldharbour Lambeth to make effective contributions to matters affecting their communities. The workshop focused on parenting, safer neighbourhoods, health and well being, reducing the risk of schools exclusions, volunteering, raising awareness of gangs, black history in Britain were amongst the topics that brought residents together to have their voices heard and input into the way forward.

We are a commissioned professional practice placement site for Kent Medway, Middlesex, Greenwich, and Southbank Universities. Our expertise and links with many relevant diverse communities offers quality standards practice in education opportunities for B.A. (Hons) Social Work Students.

Casework, key working, advocacy, outreach contact, home and school support forms our day to day operations. We are bold in our thinking and efforts to influence professional practice that responds to responsibility, fairness, and diversity in practice to meet the needs of children and young people accessing our services.

Our service users feel that the casework, advocacy and personal development that we offer is difficult to access elsewhere. They have evaluated the level of interventions and support that we provide them with as effective and meeting their needs.

Our current memberships include;

National Black Boys Can Association
Excell 3 Education Projects
London Probation Serious Group Offending Forum
Lambeth Police Independent Advisory Panel
Lambeth Police Gold Meetings Member
British Association of African and African Caribbean People
Lambeth Health and Wellbeing Forum
Lambeth Community Consultative Police Group

Special acknowledgements to;

Cathy Toger
Cynthia Roomes
Jonathan Wates
Delphine Duff
Dr Nehusi Kimani
Dr Anna Carlile
Dr Ann Kelly
Dr Jo Warner
Dr Cheryl Byfield
Michael Camp
Andrew Muhammad AKA The Investigator
Errol Patterson
Zenobia Cowan- Davis
Robyn Williams
Professor. Gus John
Professor Tony Martin
Rahman Mustapha
Theodore Ilori
Beverley Baxter
Aida Hubullah
Stephen Brooks
Stella Muma
Cllr Rachel Heywood
Cllr Jeremy Clyne
Cllr Judy Best
Phillip Saville
Ira Campbell
Elaine Hollingsworth
Our volunteers past and present

2014 presents new and exciting opportunities for us to " Change minds and lives for Better'.
Team Options 4 Change